It is not news that COVID19 has greatly impacted the education system. Without preparation schools were forced to turn to a completely digital option for all classrooms and across all ages. This also means that virtual parent teacher conferences were a must. It is more important than ever that teachers and parents have strong communication. Below are a few ways to help your student in the world of virtual learning.
Create Space: Whether you have a dedicated learning space or have been forced to make a common space the new dedicated learning space in your home, it is important that you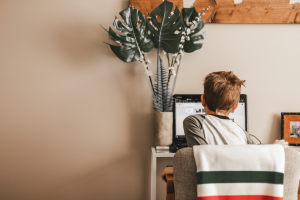 r student knows where to complete their class work. Having this dedicated space will help them feel more set-up for success and that they are in "school mode" rather than "play mode" at home. Remember, you don't need to have a large space to set-up a school station for your student.
Create a Schedule: Dressing for success has a proven track record. You will notice a difference in your student if you still encourage a strict routine including a bedtime and wake up time. Whether they are staying home all day or not it is helpful that they still get dressed for the day as it will help boost their self esteem and overall confidence.
Be Understanding: Realize that this is an unusual time for your student and that they are doing their best, but will likely get frustrated at times. Having a strong sense of compassion and understanding will help you both get through the situation.
As schools plan to reopen with traditional learning in the fall they will likely continue to offer virtual options that suit your level of comfort. If your family has decided to continue with virtual learning we are here to help strengthen the relationship between you the parent and your students teacher with virtual parent teacher conferences. Regardless of your decision we hope every family makes the right choice for their family this fall.